UX Design Intern
Samsung Research Institute, Bangalore
Mentors &nbsp Satish Patil, Trivikram Annamalai, Vaibhav Vyas
Deliverable &nbsp Conceptualize a design philosophy for Tizen OS
Duration &nbsp May - Jul'17
Project brief
Initial - Develop a USP for Tizen OS: Make a unique selling point for Tizen which would help establish the OS amongst target users who are shifting from feature phone to smartphone. Design a niche story / philosophy for the same.

Final - Design a method to educate the user to use a new app or feature: Increase the discoverability of features, the ease of use and reduce cognitive load on the user.

The following project is a personal work done under the guidance of mentors. User research was performed as a personal initiative and several brainstorming sessions were organized by gathering people from different departments.
Design process

Secondary research
Our target users were people in the tier-2 and tier-3 groups shifting from feature phones to smartphones. Several research papers were analysed for developing countries. Users included men and women from literate, illiterate and semi-literate backgrounds. For these users, even basic tasks like making calls, saving contacts and viewing call logs were a challenge.

1. Graphical interface - Difficult for novice users
2. Textual interface - Problematic for low literate users
3. Voice input - Comfortable but needs multi-lingual capability
Potential areas
Small Business Owners: Use mobile phone for business, online portals, E-commerce
Offline/Minimal connectivity: Users try to save data hence many apps like Google Docs, etc. are using offline mode
Agriculture: Farmers use mobile phones to connect with distributer,remove middlemen, and easilyaccess financial services
Adolescence: There is a gap in the use of mobile phones by adolescents and parent's concerns of them accessing the internet
Entertainment: Offline gaming, Cloud services for music streaming, mobile is used as replacement of TV
Multi-lingual need: 70% India's population lies in rural area. 1.08 bln population counts regional languages as their 1st, 2nd and 3rd language
Competitor analysis
ANDROID ONE
WHY DID THE OS FAIL?
USP - Software updates: Failed approach "Get better battery life, lose the known look and feel of UI"
Rural India: Did not sell offline in rural areas - a major target
Brand matters: Partnered with cheap low-end companies, taken as "cheap" phone
Devices: Released in three phones, all three had the same hardware, only diff was brand name - confusion
Inconsistencies: Did not implement all that was promised to users
Competition: Moto E and Xiaomi were a good competition
ANDROID GO
Lightweight OS for the most basic smartphones
WHY IT MAY SUCCEED?
Built specifically with low-end devices in mind <= 1GB RAM
Concept is to reach an additional billion users
The Operating system is highly optimized, making data affordable . It is built on cheap devices, has linquistic flexibility and easier data management
It is supported by optimized apps in Playstore
CAN IT POSSIBLY FAIL?
Focusing on low-end market. Might be perceived as "cheap phone"
Has good competition with Xiaomi MIUI
Is the selling point: aimed at <= 1GB RAM good enough for the users?
Still software is the USP (For Indians, software is comparatively less important)
More competitors analysed

Brainstorming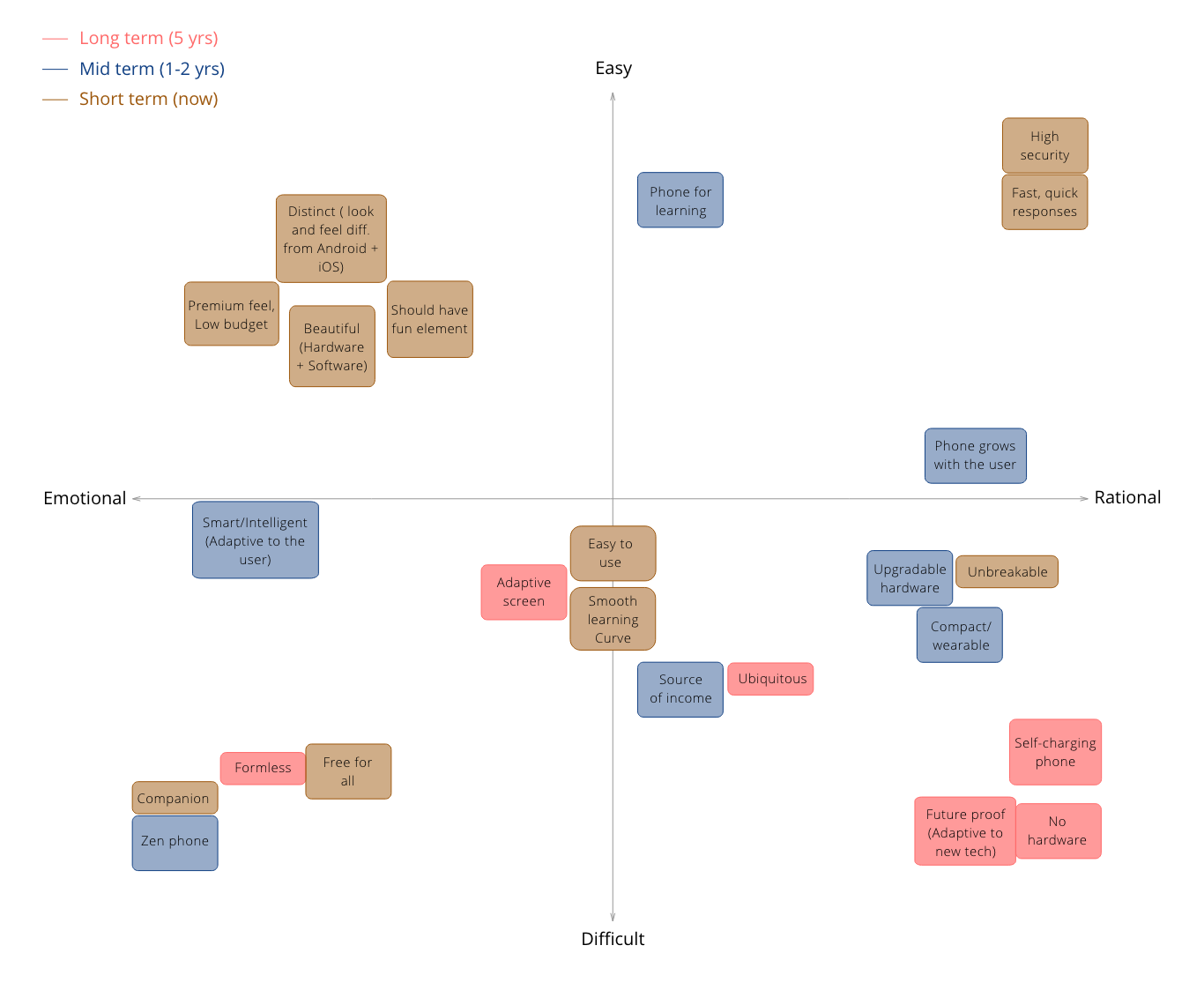 User interviews
A user study was done to understand how our target users interacted with a basic Contacts application. I wanted to find out the core problems they face in switching to a smartphone. Insights from these interviews were used to develop a philosophy for Tizen OS.
User demographics:
Number: 7 users &nbsp &nbsp Age: 25-40yrs
Smartphone users: 6 &nbsp &nbsp Feature phone users: 1
Users using English in phone: 7
The questionnaire aimed on the following:
1. Get an idea of user awareness about different features
2. Identify user problems during ongoing call
3. Analyze financial status of user
4. Identify user frustration areas
5. Understand everyday phone usage

User statements
"Smartphone requires lot of patience to learn all the features"


&nbsp Users need a phone with

smooth learning curve

"Everything should be available in shortcuts so that I save time"


&nbsp Users need

easy access to features

"I miss out important info on a call while I drive. Call recorder would help me"


&nbsp Users need an

easy method to record missed out info

during a call

"Now that I know about Speed dial, I will be happy to use it, this is much easier"


&nbsp Users need

better discoverability

of useful features
Ideation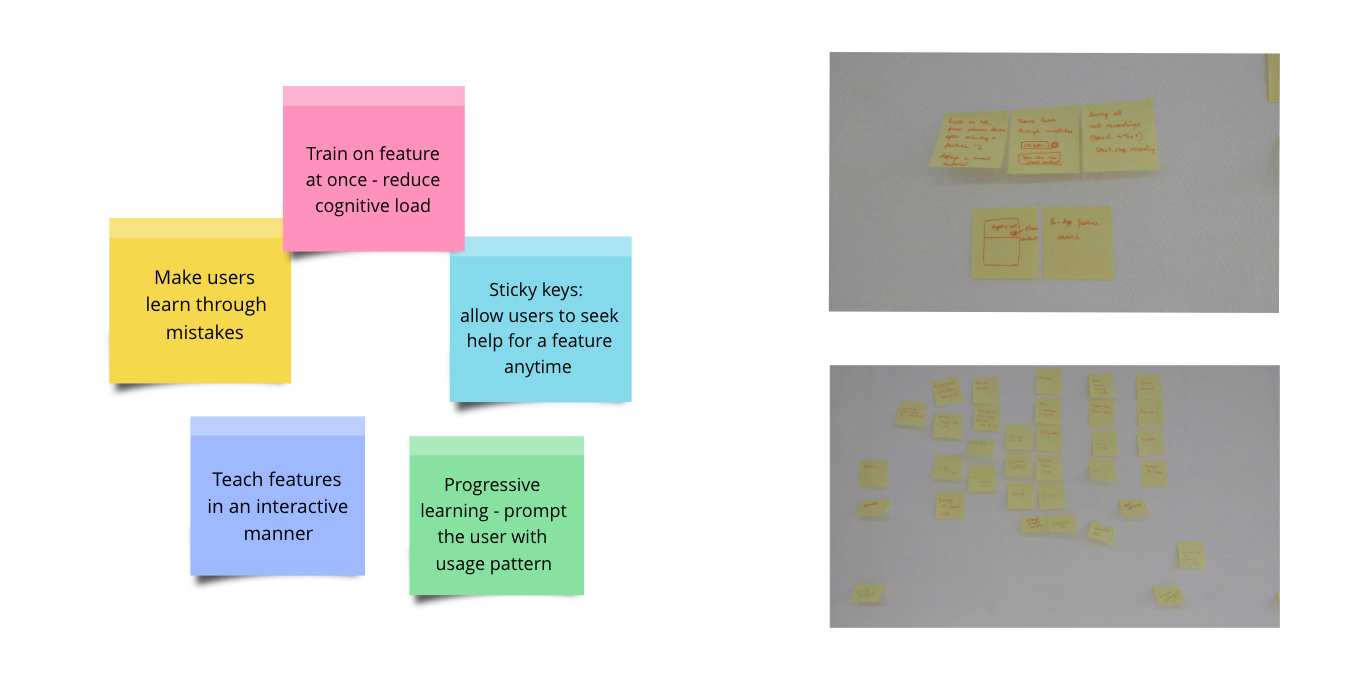 Insights
Users should understand the benefits of the app

Users need motivation to learn

Make the user feel the app as necessary

Make users learn through activities
Design philosophy
"A phone that adapts to the user patterns and educates users about useful features
in an interactive way, hence making the phone easy to use"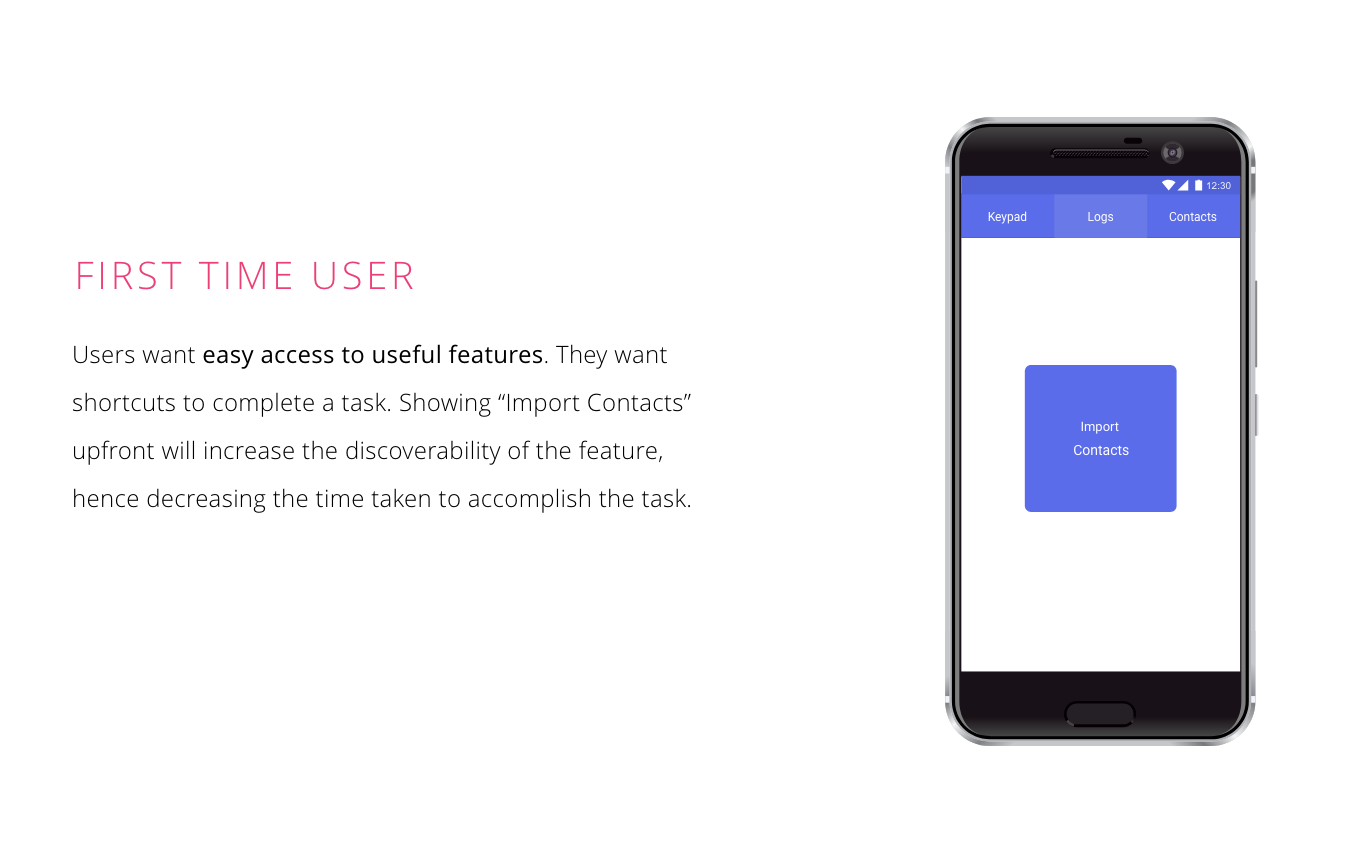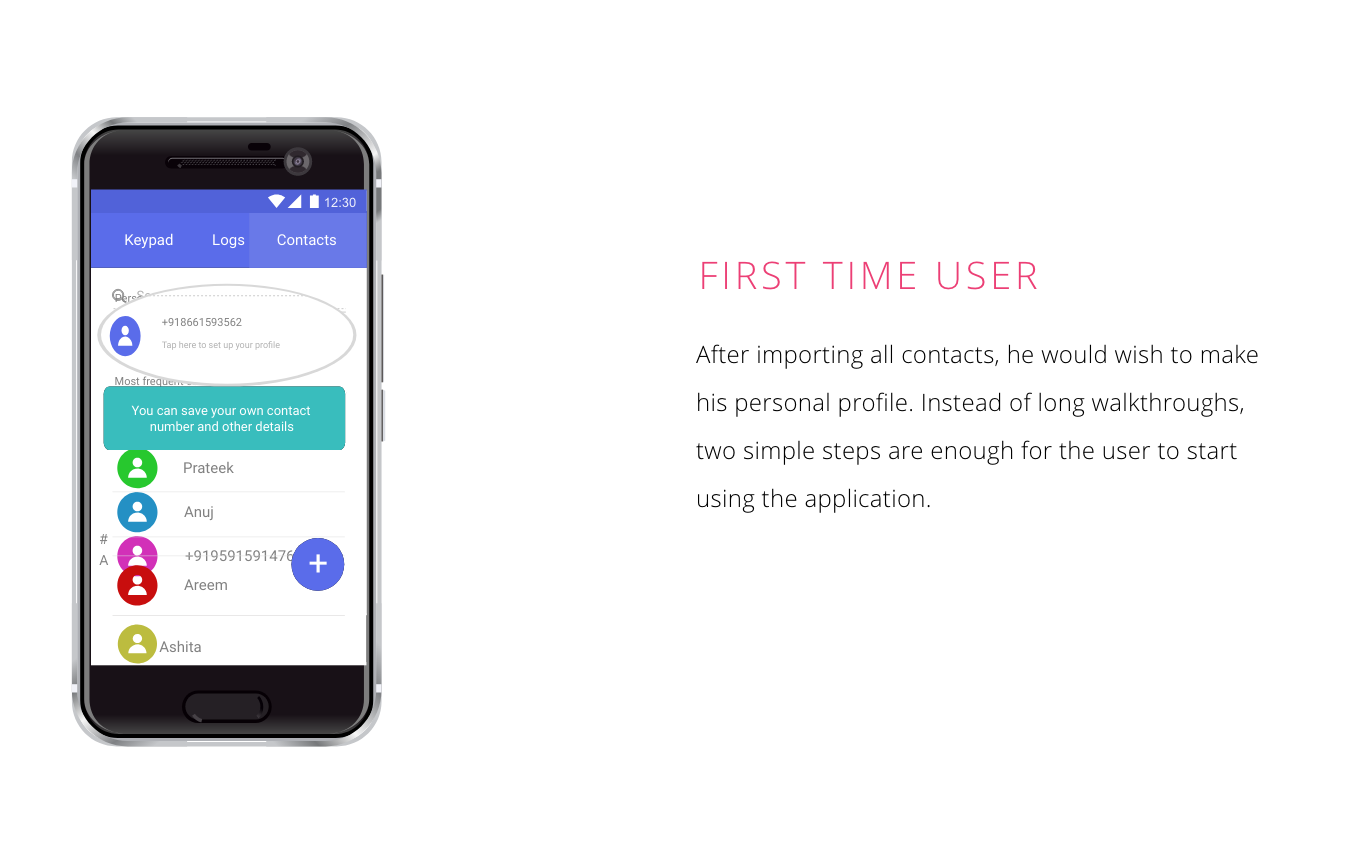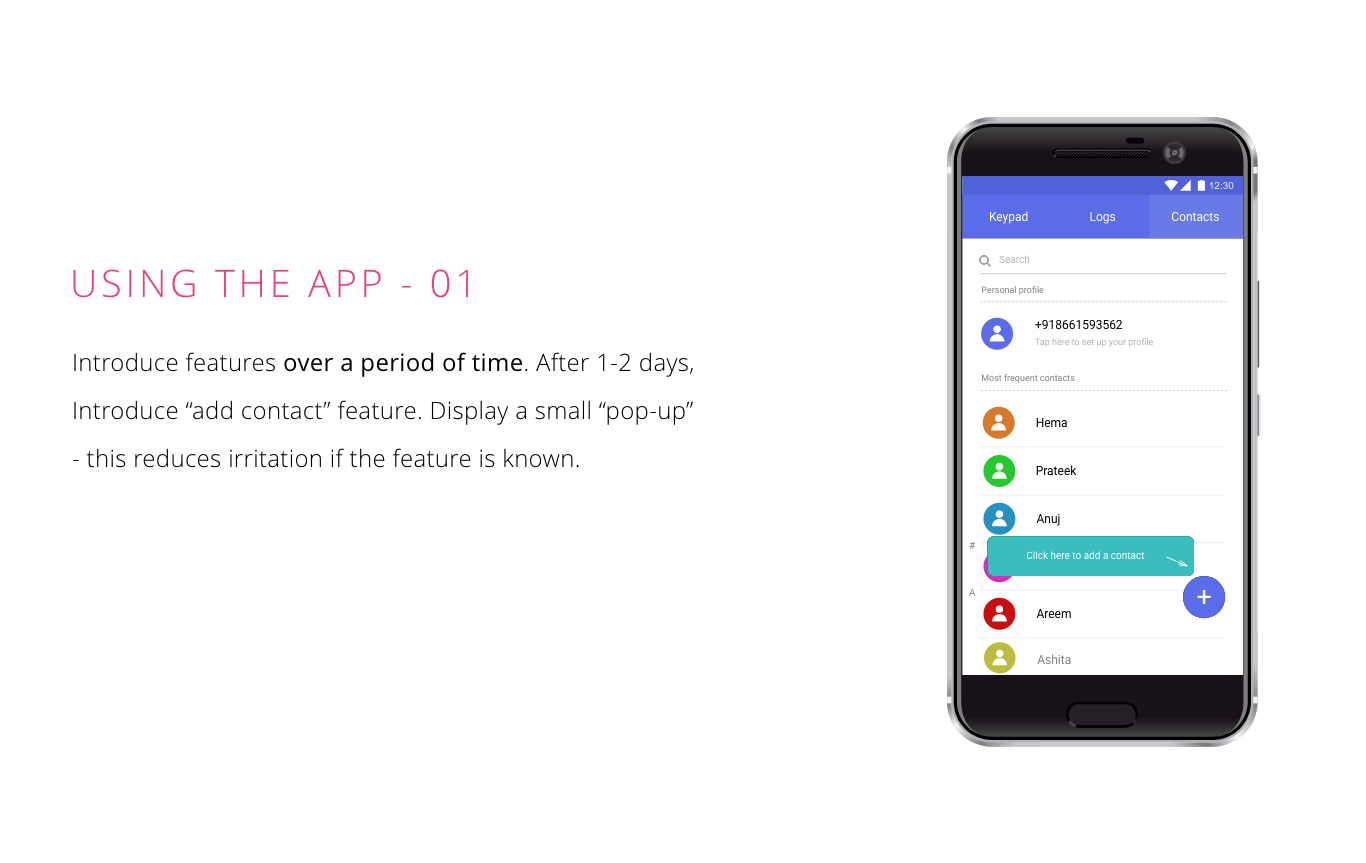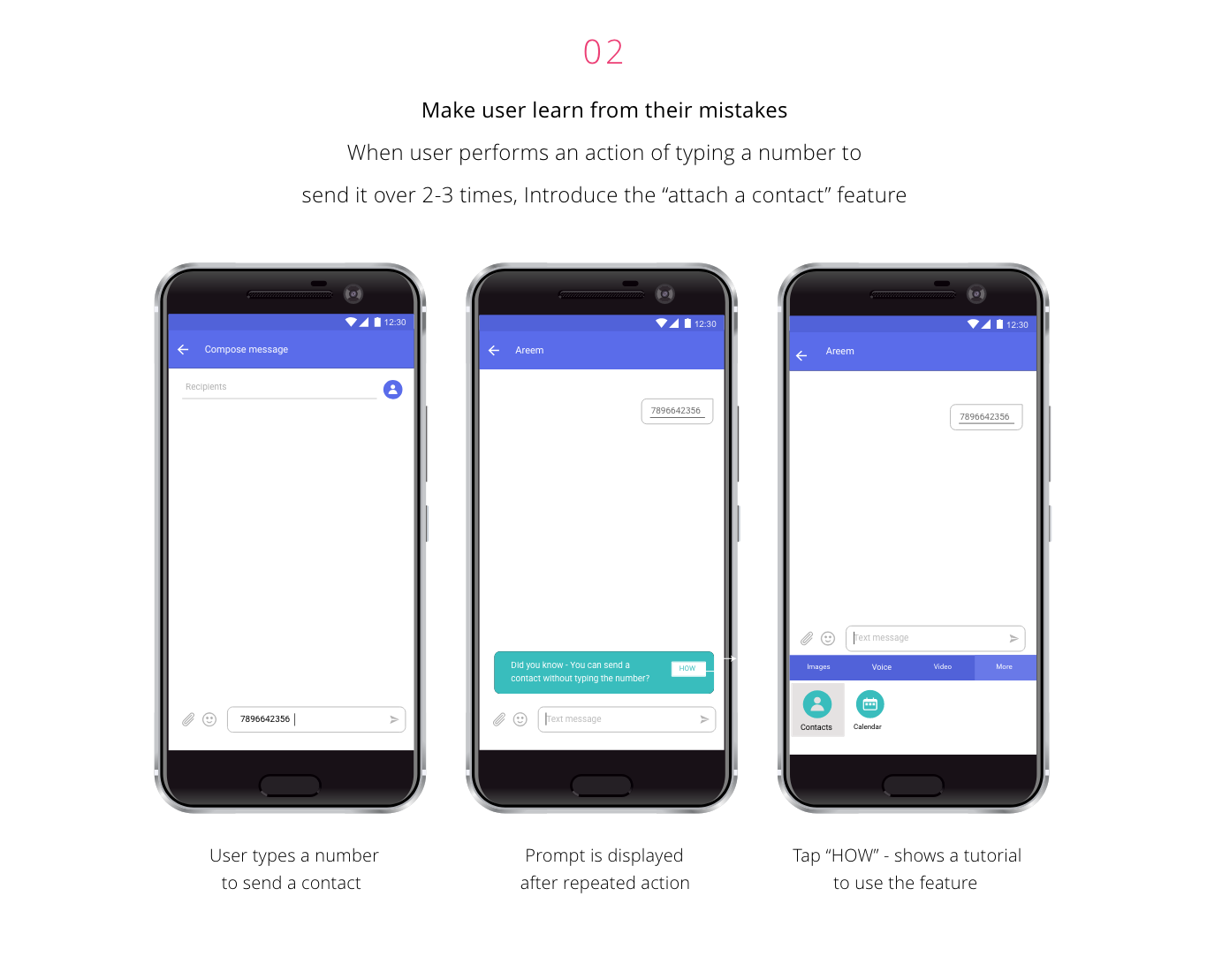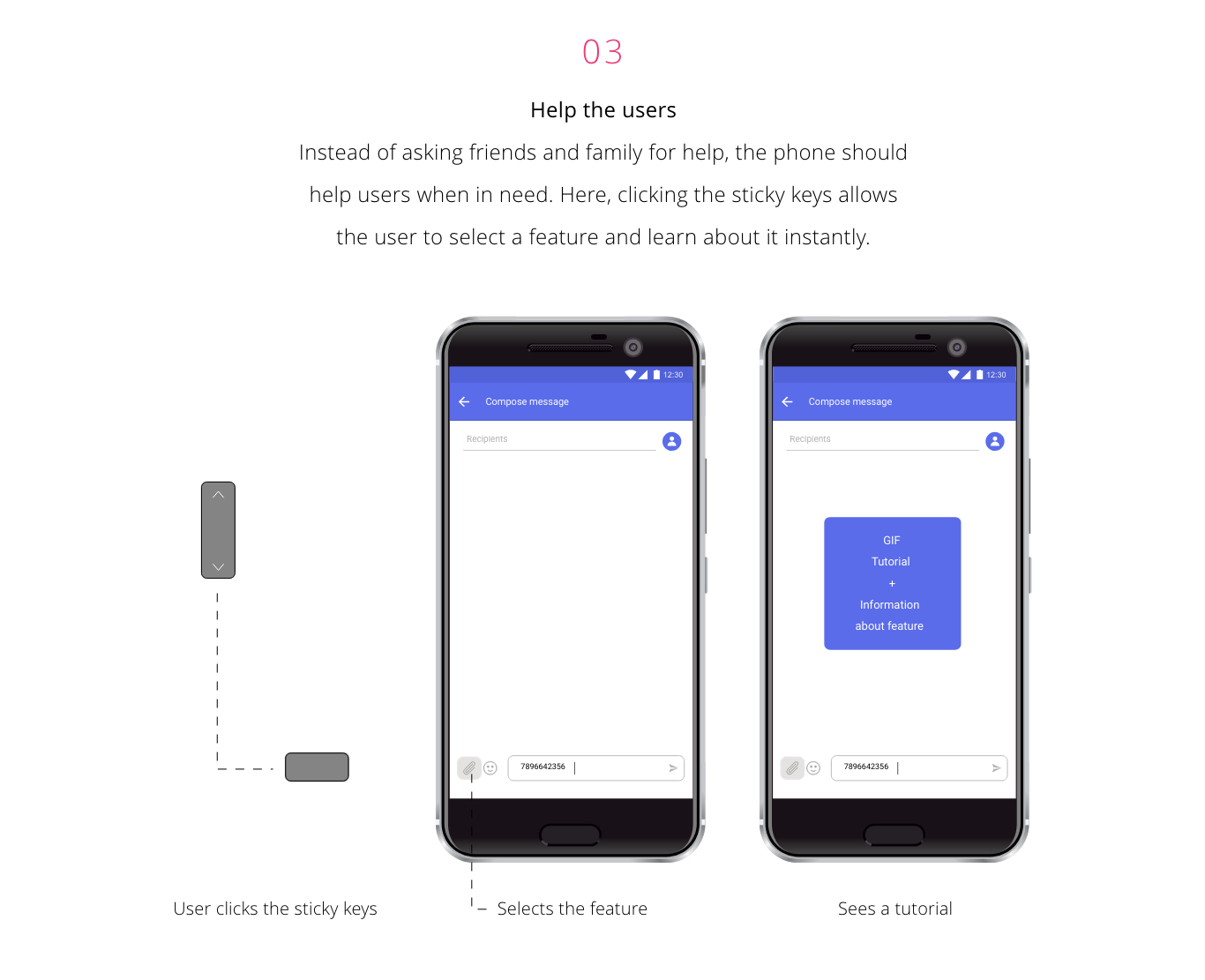 Challenges and learnings
My first industrial experience built my personality and introduced me to corporate culture. I wish to share some of the challenges I faced during this journey:
Given a broad overview of the problem area, converging to a detailed problem statement was difficult. The only way to understand the problem area was to talk to users directly and incorporate my findings from secondary research to frame a design problem statement. Having less time and budget for a field study, I took an initiative to recruit N=7 low-mid class workers in the Samsung office as my users. These were the kind of users Tizen OS was aiming for.


I was good at researching topics and competitive analysis but converting it to meaningful insights was my weakness. I took help from my mentors, observed various other researchers and built this skill during the internship. I participated in small challenges with my mentor and assessed my performance in this area.